30.01.12
FREE BLACK STARS MOTIVATION SONG FOR EVERYONE: STARS ON THE DANCING BALL by Alan Cosmos.GO GHANA GO !!
28.12.11
THE LONG-AWAITED BAMBAARA ALBUM IS OUT NOW.
Check it out on following sites:
Also visit me on Facebook and Twitter.
27.08.11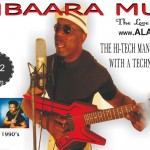 WATCH OUT FOR THE LAUNCHING OF THE NEW BAMBAARA ALBUM !!!!
COMING OUT SOON!!!!!!!
25.12.10
Here is a message from Alan BAMBAARA Cosmos .
Peace & Love for All.

15.11.10
New Newspaper Articles online.
14.10.10
New Videos online. You can watch it on YouTube
19.06.10
The Ultimate Football Hit for the Black Stars of Ghana (U21 World Champion in 1995 and 2010) is now online. Watch & get it free:
Go to TopAfric.com or YouTube or MySpace or this Site
Written & performed by Alan Bambaara Cosmos
20.04.10
Two Videos are changed in other Version: Accra Calling (Live at 4Linden) and Fashion Philosophy (Subtitled)
13.02.10
New Videos are online. Enjoy…
31.10.09
Welcome on my new Website. Have Fun.
Alan